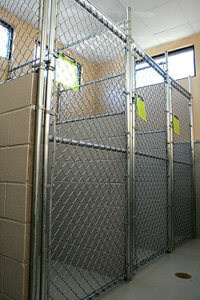 Stony Brook Animal Hospital offers a spacious and clean boarding facility for dogs, cats and exotic animals. Our air-conditioned kennel features its own ventilation system to help prevent the spread of airborne disease, and has windows to provide natural light.
We ask that clients make reservations for boarding, though we do accommodate walk-ins if possible.
We feed Royal Canin diets to boarding pets unless own diet supplied by owner. We are happy to accommodate any special dietary needs.
We are also proud to offer doggy day care for only $9.00 per day. This is perfect for pets that require extra or special attention during the day. You can have the peace of mind that your pet is in a safe and caring environment full of love and attention.
Boarding Rates (per night)
Cats: $15
Dogs 1-50 lbs: $ 17
Dogs 51-100 lbs: $ 22
Dogs 101+ lbs: $25
Daycare: $12/day
Please call 502.491.9096 or contact us to make a reservation.
Vaccination Requirements For the health and safety of all of our boarders we require that all pets be current on the following vaccinations/testing:
Dogs
Rabies Vaccine
DA2PP (Distemper/Parvo) Vaccine
Bordetella Vaccine (within 6 months)
Negative Stool Sample
Cats
Rabies Vaccine
FVRCP (Feline Distemper) Vaccine
All animals being admitted to the boarding facility will also be checked for external parasites such as fleas and ticks and treated as needed.