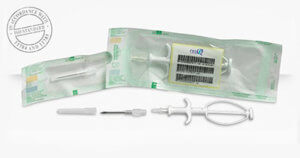 The ResQ® pet identification system is a safe and convenient ISO-compliant microchip system designed to help reunite lost pets with their owners.
ResQ is the first ISO-compliant microchip system for companion animals available in the United States. It utilizes technology recommended by most major pet welfare organizations including the American Veterinary Medical Association.
Each microchip contains an individual, pre-programmed code that is permanent, unique, and cannot be altered.
The microchip is approximately the size of a grain of rice, which is implanted into a pet using a single-use syringe.
The microchip is unbreakable, does not require a battery, and is engineered to last a pet's lifetime.
A ResQ microchip can be read by any ISO-compliant scanning device worldwide.